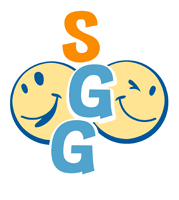 A look back at where SGG has been and where we're heading.
Welcome to Simply Good Games! We want to make your life better by connecting you with friends and family through Highly Shareable Games.
The Simply Good Games team has a long history in games. We've been part of creating everything from acclaimed AAA games to award winning casual games. Along the way we've worked on PCs, consoles, handheld, social platforms, and mobile devices.
Simply Good Games first self-published game was Dragon King Mahjong, which still has a loyal following on Facebook today. We've learned a lot about the importance of social interaction and community during our time with DKM.
Over the years we've also created several real-time multiplayer games and have firsthand knowledge of how engaging these games can be. This level of social engagement is missing from casual and midcore games today, and we intend to change that.
Highly Shareable Games is our solution to bringing a new level of engagement to casual gamers. The recipe is simple, baking it up takes a team of master craftsman.
Highly Shareable Games = Casual + Mobile + Co-op Multiplayer + Social Sharing
We're looking forward to discovering where Highly Shareable Games will lead us.
We hope you'll join us on the trip!